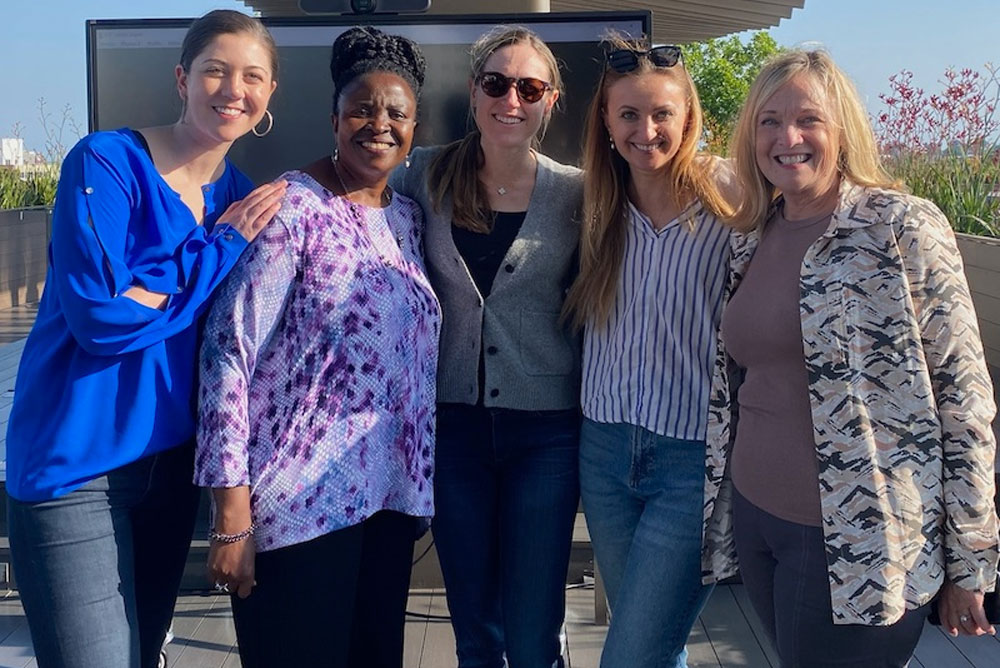 Pearls of Hope Newsletter:
Spring 2023
Dear Family and Friends,

We were honored to host Bringing Hope to the Family founder Faith Kunihira's return to the USA during the month of May. Highlights of her visit included events in Nashville, Las Vegas, Los Angeles, Beverly Hills, and Calabasas. (See photos below). All of these events nurtured existing partnerships, which have grown over the years, and fostered new donors, many who have chosen to walk alongside us with recurring monthly donations.

I am also proud to acknowledge our volunteers, advisory board, and board members who donated their time, talents, and resources in making Faith's visit a resounding success.

This year marks 22 years since the inception of the Bringing Hope to the Family organization in Uganda. Faith, her staff, and many volunteers have all done an incredible job over the years expanding their outreach while strengthening programs and services to help the most vulnerable children in the Village of Kaihura. We at Bringing Hope to the Family USA celebrate our partnership and continue to offer hope and support.

Finally, we are extremely excited to announce that the BHTFUSA team will travel to Uganda for our annual trip in early July. This year, we are pleased to be accompanied by a few first-time volunteers, and our steadfast alumnae will also be part of this journey. Our busy schedule includes the annual Building Women and Men 3-day conference which will take place in Kaihura. Our New Hope Vocational Institute students will partake in workshops that include how to start a business, financial stability, family planning, and so much more. In addition, with the direction of our local staff, a medical and mosquito net outreach is planned. Lastly, one of our volunteers will be mentoring recent university graduates on how to create and write a resume and how to prepare for interviews and next steps.

We will continue to keep everyone updated on all of our activities via social media, so follow along with us (links below). Once again, thank you wholeheartedly for being a part of our BHTFUSA family. We are looking forward to much more in the coming months.

With gratitude,

Christine Deschaine
Executive Director, BHTFUSA
BHTFUSA ANNUAL TRIP

WE NEED YOUR HELP…

We are grateful to have received funding commitments for our annual Building Women conference for 100 girls, but we still need your help! You can be a part of all our efforts by donating

here

. And please consider a recurring donation of any amount to ensure year-round support. Thank you!
Faith Kunihira returns to the USA with her Stories from Uganda
Faith Kunihira, Founder of Bringing Hope to the Family, recently wrapped up her annual visit to the USA. She spent a busy month traveling and meeting with supporters in Nashville, Los Angeles, Beverly Hills, Calabasas, and Las Vegas.
Travis and Maggie Gravette hosted a reunion visit in Nashville with Faith and several long-time friends and supporters. Pictured left to right: Joseph Prielozny, Brady Keeling, Travis Gravette, Faith and Travis Todd.
Supporters gathered at the home of Taylor Megdal in West Hollywood to hear Faith's Stories from Uganda. Pictured here left to right: Danielle Johnson, Faith, Sarah Lampe, Randi Ryan, April Weber, Christine Deschaine and Taylor.
CREW Los Angeles donated proceeds from their golf tournament at Calabasas Country Club on May 1st, 2023, to BHTFUSA. Pictured here are Alyson Campbell (Hoyt Organization), Faith, Christine, Linda Peck (Empire Construction) and Alana Van Slovis (Hoyt Organization).
Faith paid a visit to the offices of Kennedy Wilson in Beverly Hills to share her Stories from Uganda with friends, new and old.
The Stories from Uganda event in Las Vegas brought together family and friends for a lovely evening of conversation and exciting discussions about future collaboration. Pictured left to right are Avis Brown-Riley (LPGA Professional), Faith and Christine.